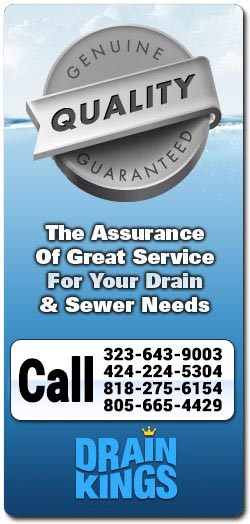 1. FIRST CLASS CUSTOMER CARE - SATISFACTION GUARANTEED
Your satisfaction is important to us. That's why we provide our customers with a level of customer care and attention that will meet or exceed expectations. We back that commitment with a satisfaction guarantee so you can relax knowing you're our number one priority when you choose Drain Kings.
2. FAST ARRIVAL
We have plumbers on-call and available from strategic locations throughout Los Angeles, The Valley & Ventura. They'll arrive at your location fast in a fully stocked vehicle with the equipment, expertise and spare parts to attend to your emergency quickly.
3. KEEPING IT CLEAN
When working in your home, we'll wear booties on shoes, keep floors around work areas covered and will tidy any mess before departing so your home is left as tidy as when we arrived.
4. SKILLED PLUMBING PROFESSIONALS
Our plumbers are chosen for their skill and experience. We add to this by providing them with regular and on-going training on the latest diagnostic and repair technology. When you choose Drain Kings you can be confident of being taken care of by the professionals.
5. LICENSED AND INSURED
We're a fully licensed, bonded and insured contractor for all drain, sewer and plumbing services across Los Angeles, The Valley & Ventura.
Experience the best in customer care and solutions for your Los Angeles and San Fernando Valley drain, sewer and plumbing needs and call and book your next service with the customer care professionals at Drain Kings today.