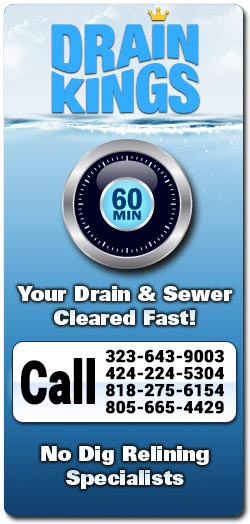 1. LOS ANGELES BLOCKED SEWER PROS
We utilise the latest technological innovations and combine that with our expertise and experience to clear your blocked sewer quickly, conveniently and economically.
2. COLLAPSED OR LEAKING SEWERS
A leaking or collapsed sewer line needs attended to urgently, so our experienced plumbers use expert diagnostic equipment, such as video inspection technology, to quickly diagnose and locate the exact nature of the problem, so they can then perform the necessary repairs quickly.
3. INVASIVE TREE ROOTS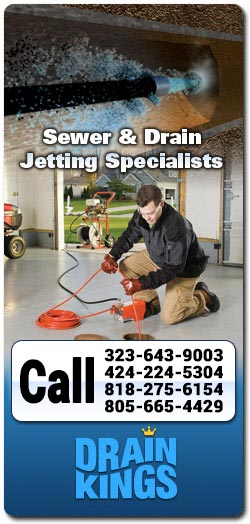 If invasive tree roots are the cause of your sewer problem, we have the skill and equipment required to remove them safely and stop them returning. With the use of rooter machines, hydro jetting or even herbicides, we can remove the offending tree in the most effective manner to suit the situation. With the help of video inspection cameras we can also check that there are no cracks or holes in the pipes where roots could re-enter.  If there are, we can assist with repairs, including the non-destructive trenchless relining solution.
4. TRENCHLESS REPAIRS – THE "NO DIGGING" ALTERNATIVE
Protect your garden, driveway or landscaping and save time and money with a trenchless repair solution that allows us to repair or replace your sewer line without the need to dig. Read more on our Trenchless Repairs page.
5. NEW SEWER LINES AND CONNECTIONS
For new or replacement sewer lines, you can count on Drain Kings for an expert installation that is code compliant and connects with Los Angeles's main line sewage system.
6. PREVENTATIVE MAINTENANCE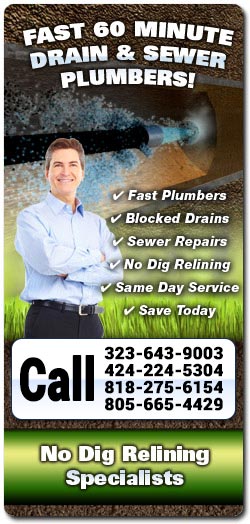 All of your household toilets, sinks and drains connect to the sewage main line, so if debris is left to build up, over time these drains are more prone to blockages. Preventative maintenance, such as periodic cleaning of the line, can help prevent blockages and save you money and time having to repair any damage in the future.
7. WRITTEN WARRANTIES
All the work performed by Drain Kings comes with a written warranty for your peace of mind.
8. UP FRONT PRICING
We provide you with the full price of all the work required up front, not only does that allow you to make an informed decision, you'll also be able to relax knowing that the price is for the complete job and not an hourly rate.
For fast, quality sewer repairs across Los Angeles, The Valley & Ventura, call and speak with the experts at Drain Kings today.