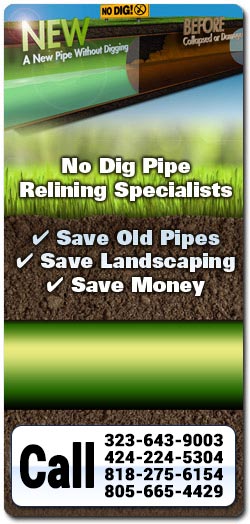 Before allowing a contractor to dig your property to repair damaged pipes in Los Angeles, The Valley & Ventura, speak with the Drain Kings about the superior no dig alternative - trenchless pipe relining. We can repair or replace pipes without any digging.
1. WE REPAIR PIPES WITHOUT DIGGING
Other companies may dig to remove or repair your damaged pipes, but at Drain Kings, we don't have to. We've invested in state of the art trenchless pipe relining which means we can repair or even replace your damaged pipes without digging and removing the old ones.
2. PROTECTING YOUR LANDSCAPING, YARD AND DRIVEWAY
Gone are the days of digging up landscaping, paved or concreted areas to access and repair damaged underground pipes. With trenchless pipe relining, we gain access through a small hole and repair or replace the pipes underground - without digging.
3. A FASTER TIME EFFICIENT REPAIR SOLUTION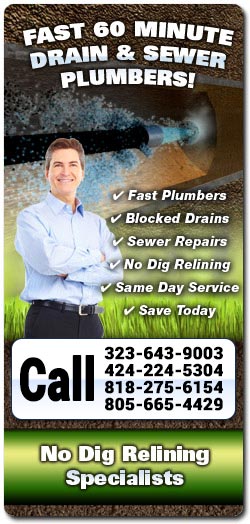 With no time wasted digging, removing existing pipes or fitting new ones, trenchless pipe relining is the most time efficient solution to repair or replace pipes underground.
4. SAVING YOU MONEY
You'll save as work can start and finish more quickly. There are no digging equipment hire fees and you won't have to spend money replacing or restoring driveways or landscaping.
5. UP FRONT PRICING
At Drain Kings, we don't charge an hourly rate. Just a full, start to finish, per job price which is quoted to you up front.
6. EXPERIENCED PROFESSIONALS
Our plumbers are trained and experienced in the use and application of the trenchless pipe relining solution, so you can be confident you're in the hands of professionals.
7. EXCELLENT WARRANTIES
We back all our workmanship with a written warranty on quality plus the trenchless pipe relining comes with an excellent manufacturer warranty too.
For a superior and faster solution to repair your underground pipes in the Los Angeles and San Fernando Valley area, consider trenchless pipe relining and call and speak with the experts at Drain Kings today.