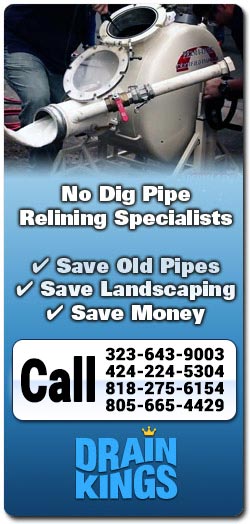 Trenchless pipe relining provides a superior, less destructive, more cost effective, faster and durable repair alternative for damaged pipes in Los Angeles, The Valley & Ventura. At Drain Kings, we've invested in the technology and staff training as we believe it to be the superior method of pipe repair available.
Traditionally, damaged pipes would be dug up and replaced. If a concrete driveway, pathway or established landscaped garden lay above those damaged pipes, they would be dug up to gain access to the pipe below.
With trenchless relining, however, there's no digging! We're able to create a new pipe, partial or full, without removing the old one!
The relining process consists of inserting a special liner which has been impregnated with an epoxy resin. It is then inserted into the existing pipe and pulled through to the desired position. The liner is flexible so it can navigate through bends and around joint angles of up to 90 degrees.
Once in position, the epoxy resin is cured and hardens which creates a new pipe inside the existing one. This new pipe is hard, strong and even more durable than a new PVC pipe.
To discover more about the advanced trenchless relining solution and the many ways you can save, call and speak with the trenchless relining specialists at Drain Kings today.