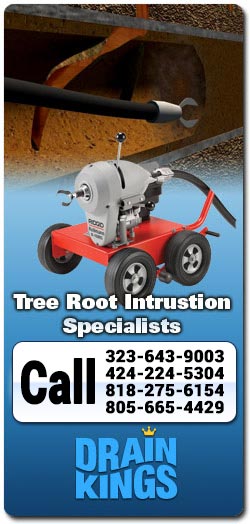 If a tree root has broken through your sewer line in Los Angeles or the San Fernando Valley area, depend on the experts and call the Drain Kings. We provide safe and effective removal, precision repairs and preventative solutions to inhibit future growth.
1. THE TREE ROOT EXPERTS
Our team are trained and skilled using the best diagnostic and repair technology. They'll locate the offending roots fast, remove them and perform quality repairs to your pipes.
2. HYDRO JETTING
Our hydro-jetting system blasts the offending tree roots to pieces that are small enough to safely wash away leaving your line free flowing and clear again.
3. HERBICIDAL TREE ROOT INHIBITORS
It's important to not just remove roots within your pipes, but to inhibit any regrowth. With our herbicidal root inhibitor solution, you'll protect your pipes from potential future root damage and the solution is safe enough to be harmless to surrounding plant life.
4. TRENCHLESS REPAIRS
For a superior, cost effective and the least damaging solution to repair your pipes damaged by roots, consider trenchless pipe relining. We can access the damage and perform repairs without the need to dig up surrounding areas – saving you time as well as money. Read more here.
For fast, safe and effective removal of tree roots from your Los Angeles and San Fernando Valley pipes, choose the experts and call and book your tree root removal service with the Drain Kings today.